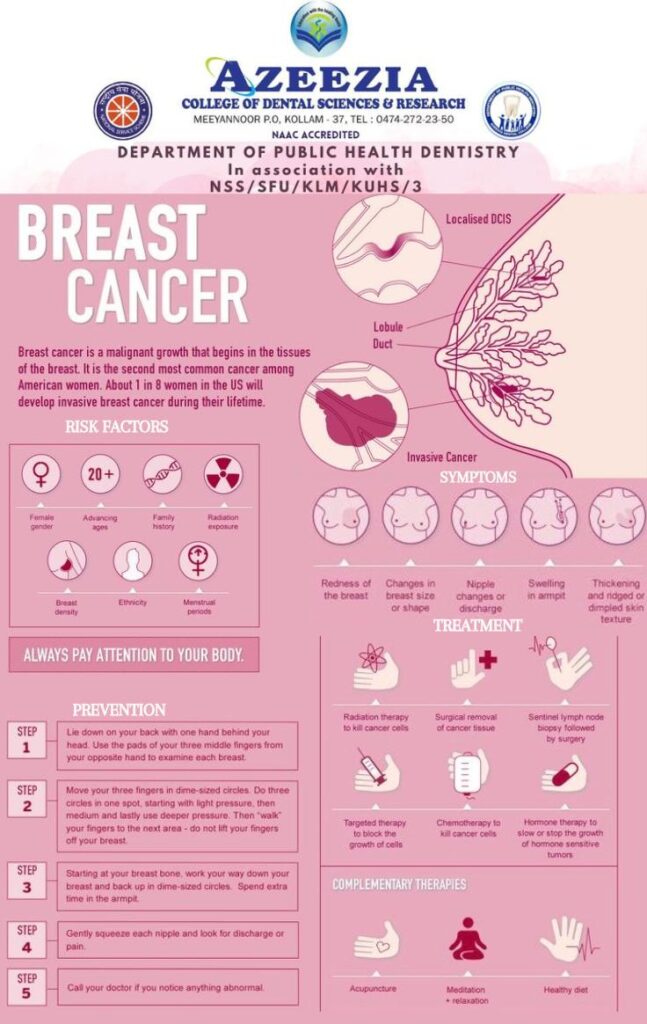 REPORT OF BREAST CANCER AWARENESS MONTH
As a part of Breast Cancer Awareness Month (1 st October 2023 to 30 th October 2023) Department of Public Health Dentistry , Azeezia Dental college, Kollam in association with QSSS (Quilon Social Service Society), Ashakiranan and NSS unit(NSS/SFU/KLM/KUHS/3) jointly conducted a Breast Cancer Awareness class on Sree Vidyadhiraja College of Arts& Science ,Karunagapally on 6 th October2023.
This month October 2023 marks as Breast Cancer Awareness month, which is focused on spreading awareness and access to resources to support people living with cancer .The theme for Breast Cancer for 2023 is "Keeping Her in the Picture".
On this event, the inauguration was done by Principal of Sri Vidyadhiraja College followed by addressing the students by Dr. Naveen Jacob Varghese, Senior lecturer, Department of Public Health Dentistry, Azeezia Dental College, Kollam.
The Breast cancer awareness class was given by Dr. Shahanas.E, Intern of Azeezia Dental College. In addition to breast cancer, she also emphasized regarding different oral health diseases their prevention as well as management. An
awareness class regarding oral cancer, its cause, prevention was also explained since it is an emerging disease in older as well as younger adults.
Also pamphlets distribution regarding breast cancer awareness was done to the students and staffs in the college. The objective of the event was to discuss about how common breast cancer is affecting in our community. The session concluded around 2.00 pm.