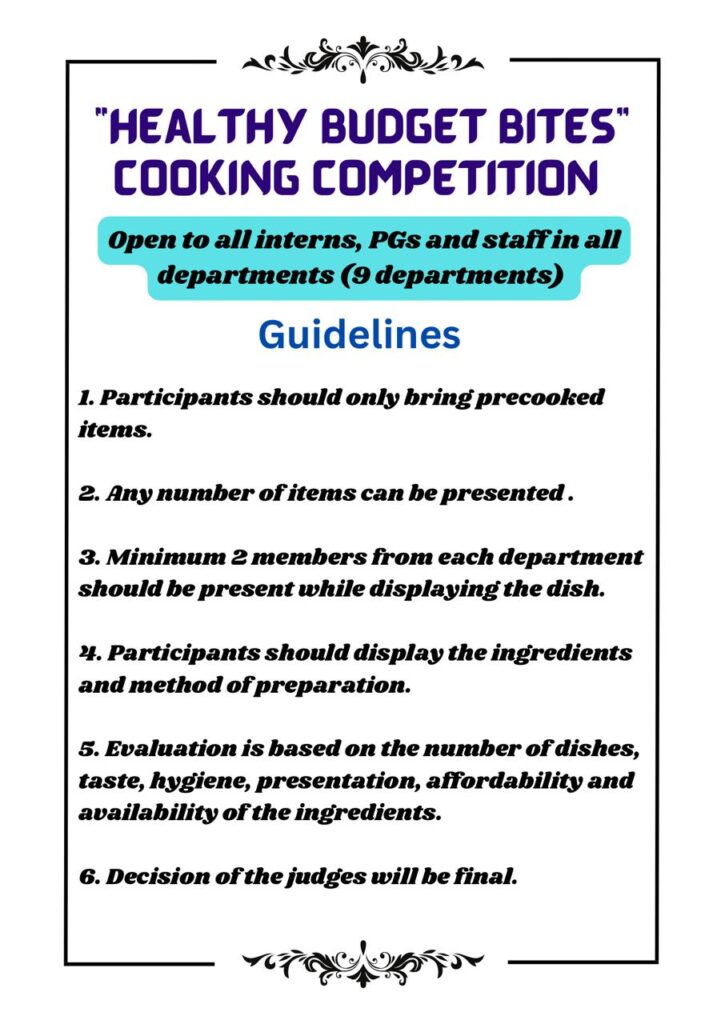 Report of National Nutrition Week 2023
As a part of National Nutrition week, September 1 to 7 2023, Department of Public Health Dentistry conducted a webinar on the topic "Nutrition & Healthy Lifestyle" on September 8th from 07:00 to 08:00 pm through zoom platform, and on September 13th, an inter department cooking competition was conducted at lecture hall 4 which was based on the theme "Healthy Budget Bites". The theme for National Nutrition week 2023 is "Healthy diet affordable for all" which emphasizes the importance of healthy diet regardless of income & social status. On September 8th, the webinar ways conducted with the objective of creating awareness among young minds regarding the importance of nutrition & healthy lifestyle.The resource person for the webinar was Mr Ragesh Madhav [Chairman of RGM Wellness, Fellowship in Nutrition & Environmental Medicine, Nutrition therapy,Vitamin C & chelation therapy].
The program was addressed by Dr Naveen Jacob, Senior Lecture Department of Public Health Dentistry.The importance of healthy diet & lifestyle by emphasising significance of balanced diet,adequate nutrition, impact of right food choice on imposing overall physical & mental health, wholesome diet offers essential nutrition, vitamins,minerals & energy necessary for proper functioning of body & growth. He also advised to include fibre rich diet, need for curbing of saturated fat & sugar & he also pointed out harmful effects of consumption of processed foods.
He also enlightened the emergence of lifestyle disease in recent years. Unscrupulous use of phones, lack of adequate sleep, smoking, alcohol,drug addictions, consumption of junks are the key factors leading to these disorders.He also came up with a self affirmation -"I am Happy, I am healthy, I am successful"
Towards the end of session, he suggested various methods for stress management by focusing on the importance of physical exercise, balanced diet & adequate sleep in daily life for a sound mind & body. The webinar concluded with a doubt clearance session, where the students got an opportunity to interact with the speaker & followed by delivering vote of thanks.
On September 13th, as a part of National Nutrition Week, a cooking competition was also conducted, where the contestants were added to prepare healthy dishes which are easily affordable & rich in nutrients. All departments actively participated in the contest & came up with wide varieties of nutritious foods which we're delicious.
We had a preparation phase in our program which started in the morning. We were divided into groups & planned to prepare different dishes according to different types of diets.The preparation phase for the program was harmonious & interesting with all the involved members showing active participation & coordination. Each department came up with their own unique way of presentations & menu charts were displayed along with it.Participants were allowed to bring only pre-cooked items.
In afternoon, finally our principal, vice principal & all our faculties were invited to our National Nutritional Day Celebration. Mrs Shahana Manoj, Department of Home Science, Delhi Public School & Mrs Dr Haritha Haridas, Dietitian,Clinical Nutrition Department, Azeezia Medical College, were welcomed as our chief guest. Judges & faculties one by one tasted the dishes. One staff from each department explained about their dishes to them.
Guests & all the other faculties were impressed by the presentation & preparation skills of the contestants & were very happy to do such a program. At the end of the program, results were published & the evaluation was based on number of dishes , taste, hygiene, presentation, affordability & availability of ingredients.
---