Oral pathology is a branch of dentistry concerned with study of the causes and effects of oral diseases and are instrumental in confirmatory diagnosis of oral diseases and aid in appropriate treatment planning.
The department of oral pathology aim in producing good dentist who are sound in basics and pathological knowledge and formulated a curriculum which focuses on clinical and practical exercises.
FACILITIES
The department is equipped with state of art equipments like research microscope with polarizing ,phase contrast and photomicrographic attachments for post graduate,research scholar training and research purposes. The department includes clinical lab,histopathology lab,immunohistochemical lab,research lab,museum,AV room with LCD projectors,UG student lab,PG student lab.
The department of oral pathology and microbiology has been KUHS recognized PhD centre since 2019 with PhD scholars admitted since 2020.
---
Dr. R. Rathy
Professor & HOD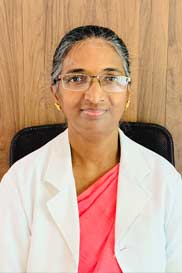 Dr.R.Rathy ,alumna of Government dental college ,Thiruvananthapuram has over 21 years of teaching experience and research experience. She has a post graduate diploma in Bioethics and Medical Ethics. She has been contributing as member in Azeezia Ethics Committee since 2015. She is also contributing as reviewer in PubMed indexed journals and also in the editorial board of oral and maxillofacial pathology journal. She has delivered lectures at various platforms. She has many national and international publications to her credit. She is recognized postgraduate and PhD guide under KERALA UNIVERSITY OF Health Sciences. Her research interest are oral cancer, precancer, forensic odontology. She has been in the organising team for national and state speciality conferences. She has guided research papers in addition to post graduate dissertations.
---
Dr.P.Jayanthi
Professor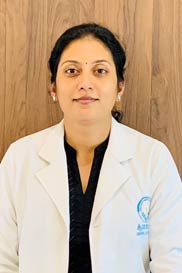 Dr.Jayanthi is passionate about teaching and research and is currently the Assistant Editor of Journal of Indian Dental Association (JIDA). She was the Associate Editor of Journal of Oral & Maxillofacial Pathologists (JOMFP) and is a reviewer in high impact journals . She has received Fellowship of Indian Association of Oral & Maxillofacial Pathologists and has completed certificate courses in Research Methodology & Biostatistics from Manipal University and Kerala University of Health Sciences. She has been the resource person in various research methodology workshops and has several publications to her credit. She is a recognised postgraduate and PHD guide in Kerala University of Health Science.
---
Dr.Ameena. M
Reader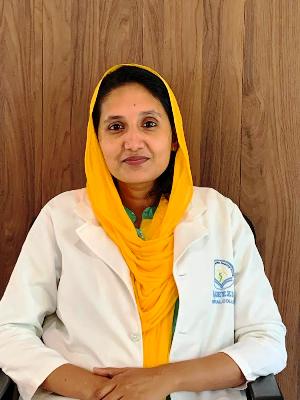 Dr.Ameena M, has completed her MDS in Oral Pathology and Microbiology from Azeezia College of Dental Sciences and Research in 2016. She has several publications in indexed journals. She is the nodal officer of Student Support Guidance Programme of Kerala University of Health Sciences from the college. She is actively involved in research as well as academics.
---
| | |
| --- | --- |
| Dr. Asha S D | Sr. Lecturer |
| Dr. Nripan T | Sr. Lecturer |
| Dr. Kavitha E G | Sr. Lecturer |
---
Gallery