International Women's day, March 8 2022
As a part of International women's day celebrations, Department of Public Health Dentistry, Women and Child Development Department of Government of Kerala, NSS (National Service Scheme) and Mahila Shakti Kendra, Kollam conducted a debate competition on March 3, 2022 to create awareness about the still existing plague of dowry system. The winners were selected to compete at district level. Two teams out of five were selected in the preliminary stage and the students of Azeezia outsmarted the opponents in the finals and bagged the first prize. Certificates were distributed to the winners by Dr Arun S Nair, Assistant Collector,Kollam.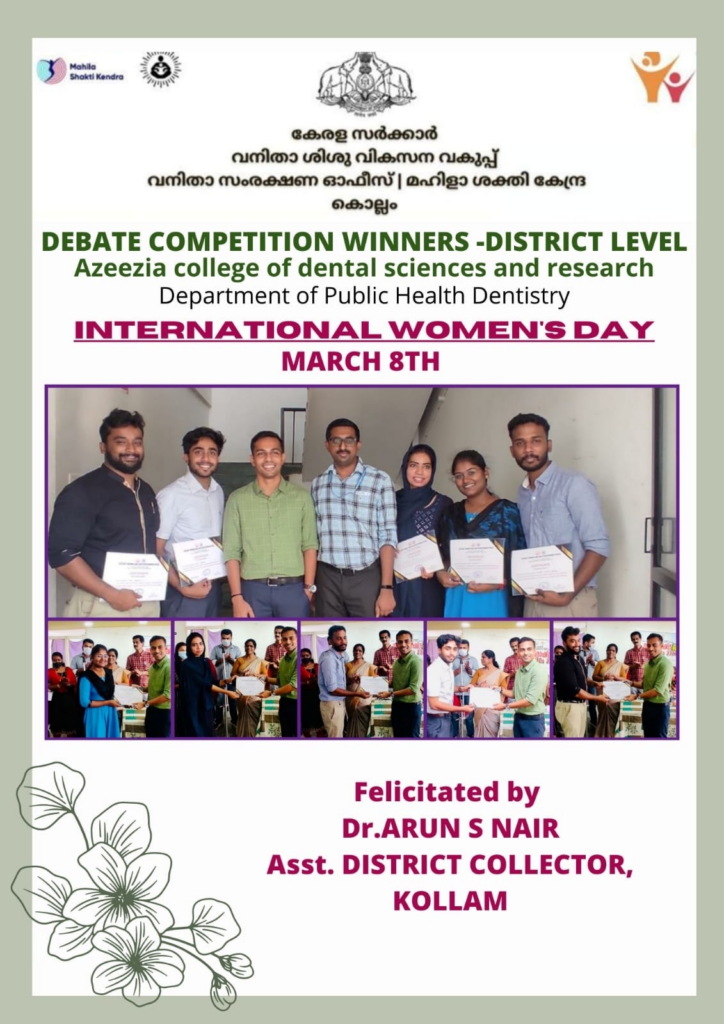 Global pharmacovigilance, Sun pharma Ltd. Dr Aarathi Vijayan gave the welcome address and
Dr R Rathy, Vice Principal inaugurated the Webinar.
World Oral Health day, March 20 2022
World Oral health day (March 20th 2022) was observed by the Dept of Oral Pathology and Dept
of Public Health Dentistry by conducting a Public awareness programme on oral cancer. The
programme was inaugurated by Mrs Prasanna Earnest, Mayor Kollam. Welcome speech was
given by Mr George D Kaatil, Councillor Port Kollam. Awareness session and felicitation was
by Dr Rethy, Vice Principal.