REPORT OF WORLD ORAL HEALTH DAY 2023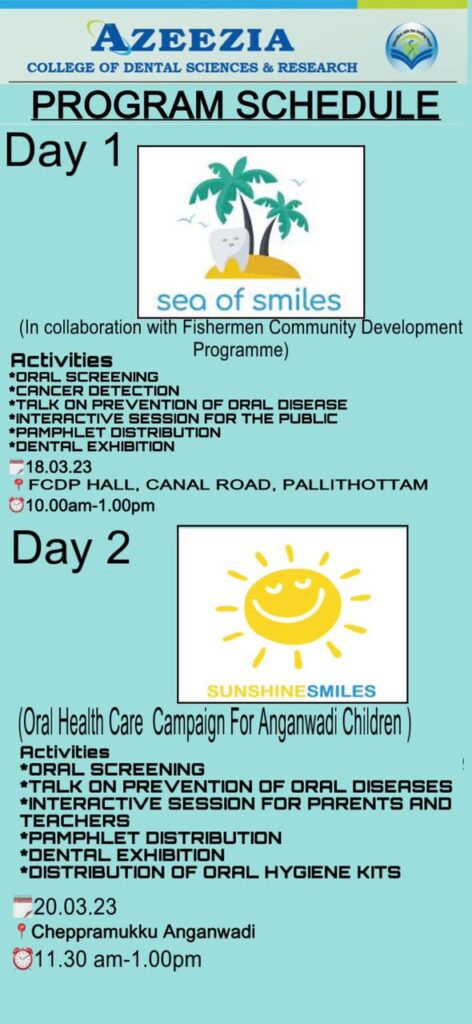 With the theme : Be Proud Of Your Mouth, World Oral Health Day 2023 was celebrated on 20th of March all over the world. As a part of this , Department Of Public Health dentistry, Azeezia college of dental sciences and research and NSS jointly celebrated the event by organizing a two day oral health care campaign and dental awareness programme.
Day -1
Under the project "Sea of smiles" an oral health care campaign for the people residing in coastal areas of Kollam were held on 18-03-2023 at FCDP hall Pallithottam in collaboration with Fishermen Community Development Programme .The aim of the project was for improving the oral health of coastal population.
Day – 2
On 20th March the programme was officially inaugurated by Dr. Radhakrishnan Nair principal of Azeezia dental college by pinning the smiley badge to interns and also distributed oral hygiene kits to the cleaning staffs. Posters regarding oral health awareness were exhibited at the reception area.
Under the project "Sunshine smiles" an oral health care campaign for Anganwadi children was conducted at Chepparamukku Anganwadi Kollam. Oral awareness speech on prevention of oral diseases was given by Dr.Nadha intern. As a part of this programme oral hygiene kits were distributed to the children.
The initiation of the programme was undertaken by Dr.Aarathi Vijayan HOD, Department Of Public Health Dentistry and coordinated by Dr. Saira Siraj and Dr. Naveen Jacob Varghese, Senior lecturer Department of public health dentistry. The interns of department were actively involved and participated in the programme.