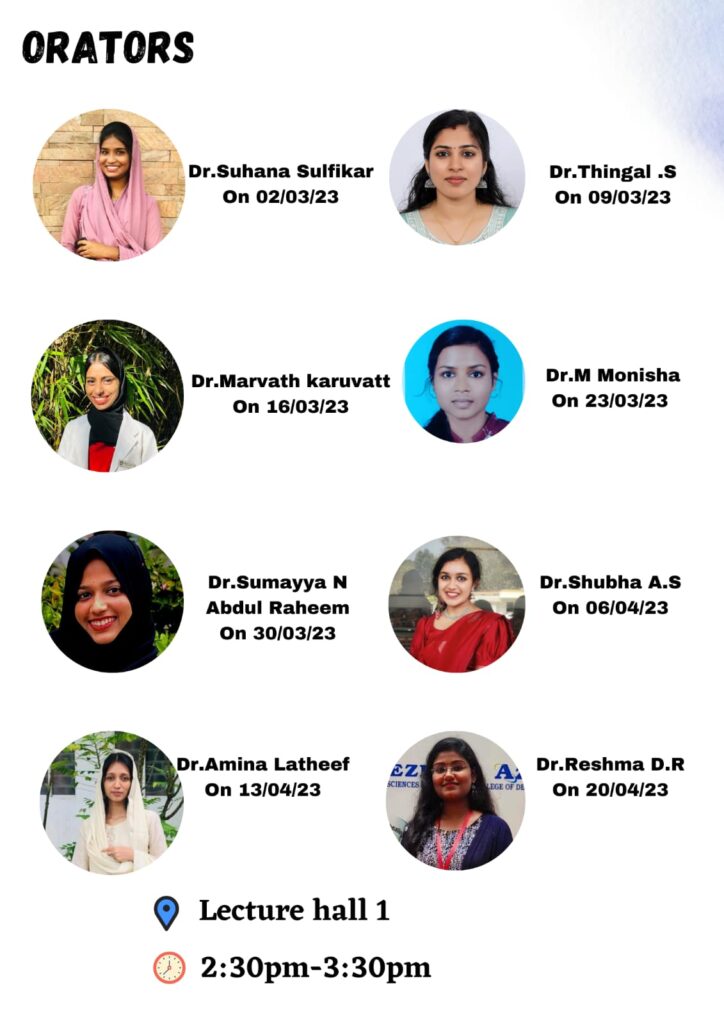 The Report of the Peers Project
The Department of Public Health dentistry of Azeezia College of Dental Science and Research took an initiative to conduct a program called " The Peers Project."
The "Peers project" is a peer-to-peer program where interns empower students to choose healthy behaviors and form positive relationships. Here Students were taught to develop useful tools to making healthy life choices, identify their strengths and values and achieve their academic goals.
The program was scheduled weekly one session for two months at Lecture Hall I from 2:30 to 3:30pm. Dr Aarathi Vijayan, The Head of the department, Care fullyHand picked each of the Orators from the interns of 2017 Batch who Showcased consistent performance inacademics over the years.
The choosen Orators were Dr Suhana Sulfikar ,Dr. Thinkal . S , Dr Marvath Karuvatt, Dr. M. Monisha, Dr. Sumayya N Abdul Raheem, Dr Subha A∙S, Dr Amine Latheef, Dr Reshma D.R . Dr SuhanaSulfikar and Dr . Thinkal .S completed their session on 02/03/2023 and 09/03/2023respectively. Dr Hashika Beegum Najeeb, intern of the department of public health dentistry started the session by introducing about the program and invited the Orators on their respective sessions . The upcoming Session have been scheduled on every Thursdays of comingmonths. The program was monitored by Dr Saira Siraj, assistant professor of Department of Public health dentistry.